Wordpress
Get started with WordPress and WooCommerce
Create your own online store and run it successfully, strengthen customer loyalty and generate more sales with WooCommerce and Wordpress.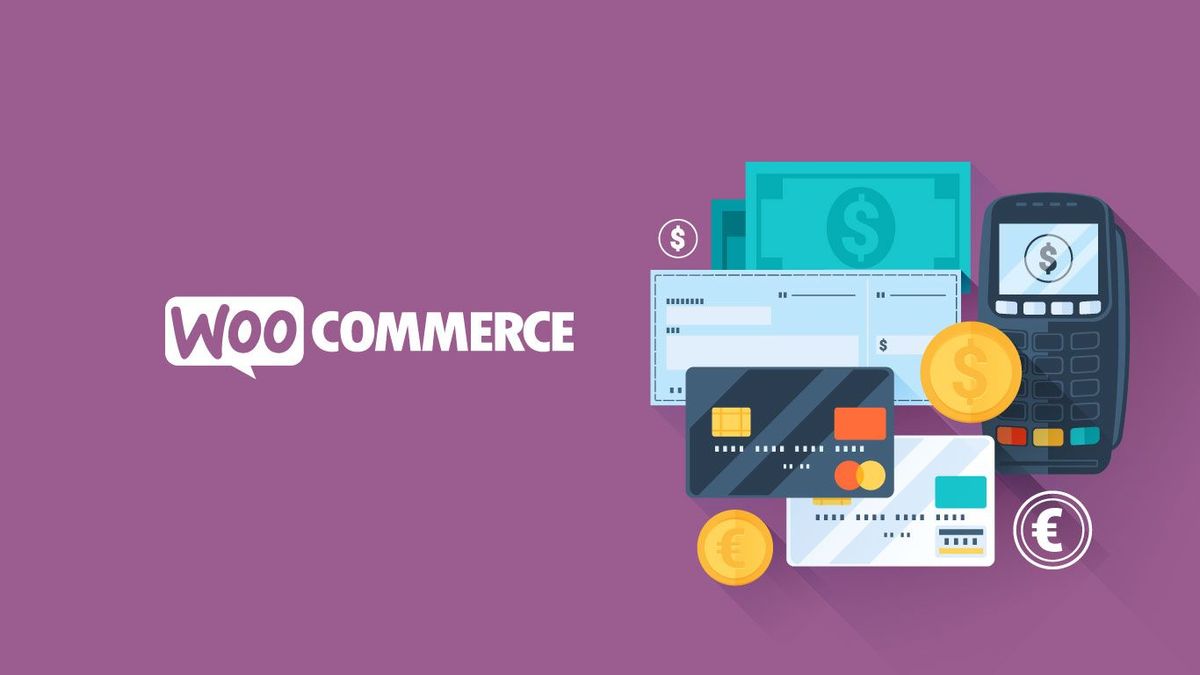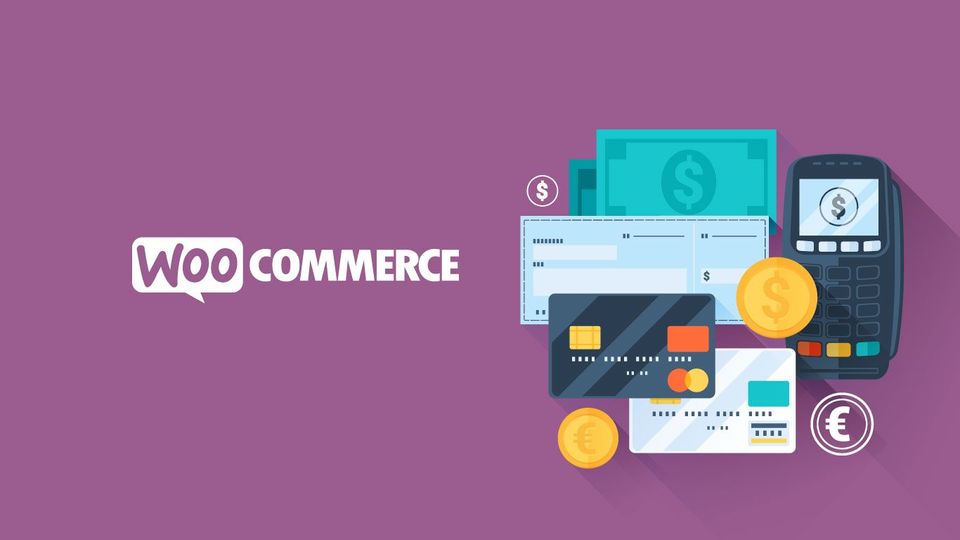 Whether you're selling actual products or providing digital content in the form of downloads, you can't do it without a modern online store in the age of Web 2.0. In order to assure long-term survival on the marketplace and to continue increasing the levels of your publicity, you should set up an online store. This doesn't only strengthen the company's brand, but also generates more customers by increasing its reach. By creating your own online store and running it successfully, you can also strengthen customer loyalty, manage business operations more efficiently, and generate more sales.
On the internet, you will find numerous software solutions – including CMS-supported options. On the basis of these systems, it's possible to create functional online stores with WordPress and WooCommerce.
Why it's worth creating an online store
As a professional supplier of quality products, you want to offer your customers not only access to your range, but also to impress them so that they make a purchase. Mobile internet means that users can order products wherever they are and at whatever time it happens to be. Such behavior is becoming more and more popular. By designing a mobile-optimized online store, you're adapting to this changing buyer behavior and can reach even more potential customers. A web store with professional features enables you to flexibly manage your own product range, coordinate customer orders and shipping, practise marketing, and also make your online store more attractive with SEO measures for search engines. This makes it easier for users to find you online.
If you're fine to work with content management systems, you have the opportunity to create your own online store with the globally-used CMS, WordPress. If you run your online store on WordPress, you can make the most of a popular world-wide system with versatile functions when you opt for this open-source CMS. The dashboard enables you to set up, edit, and expand your store with extensions, known as plugins.
Even though a CMS isn't technically an e-commerce platform, it can still be worthwhile creating a store with WordPress. One of the most common methods that connects the CMS to a shop system is to create an online store with the WordPress plugin, WooCommerce.
The free shop plugin, WooCommerce, is easily downloadable, doesn't require complex installation, and can be set up directly via the CMS menu. According to WordPress itself, it is one of the most popular e-commerce systems with around 30% of all online stores currently operating on it. Even the free version offers numerous features for running a professional store. You can then expand these features if needs be by upgrading to the paid version. If you accept that there will be a few restrictions you can set up a decent store using just the basic features. We explain how this works in our WooCommerce tutorial and how you can create a functional WordPress online store with this plugin.
Step 1: Install your WordPress store with WooCommerce
If you are using Bamboozles' Managed Wordpress you can install WooCommerce and its most important Free Plugins with a single Click in your Wordpress Console under "Plugin Packages".
For default Wordpress installations follow the following guidelines.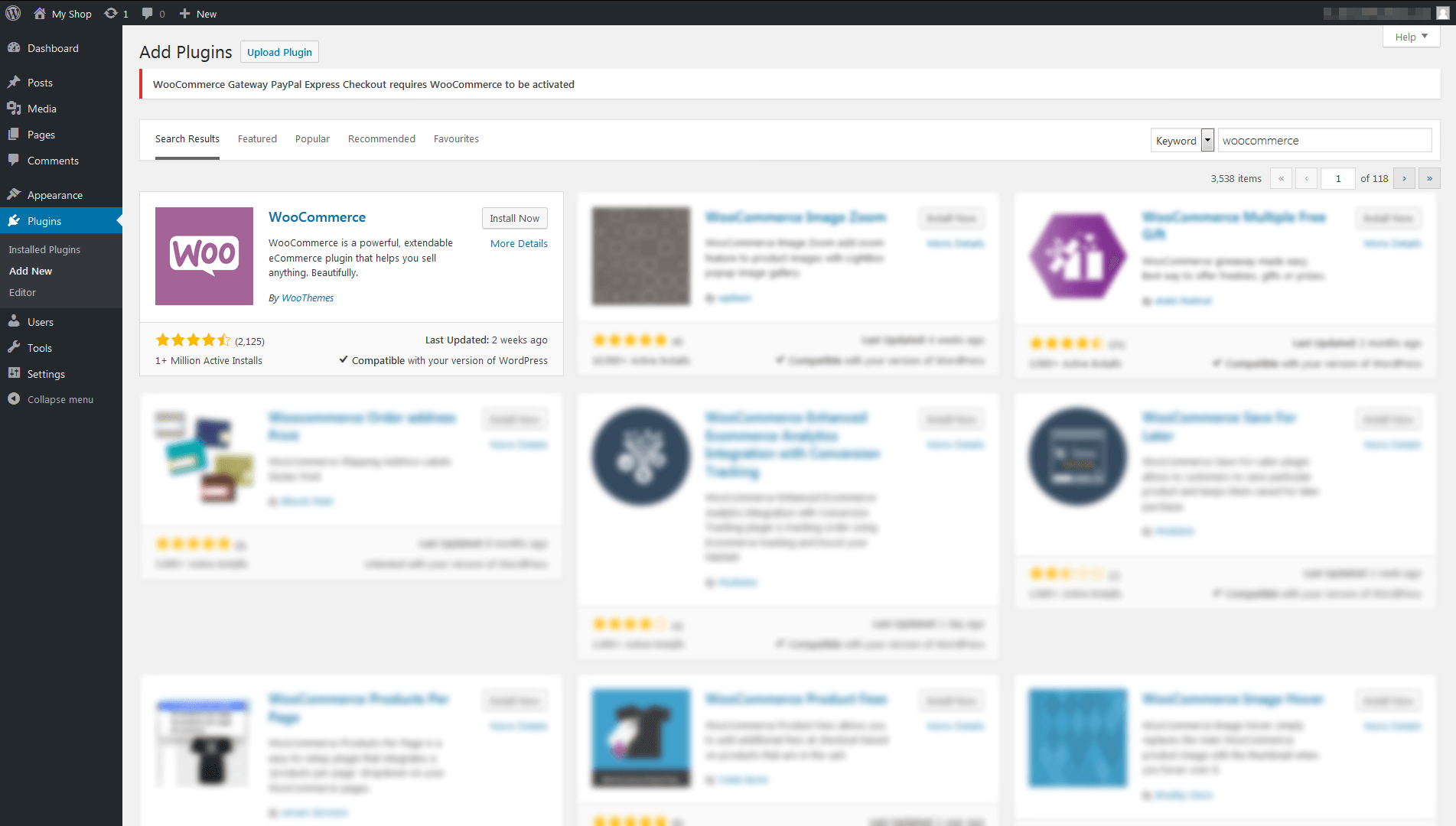 You will find the installable plugins in the WordPress sidebar. In the menu, select 'plugins' and then 'install'. Search for 'WooCommerce', then start the download by clicking on 'install now' followed by 'activate'. For beginners, it is recommended to start the integrated installation wizard by clicking on the pink button 'run setup wizard'. This guides you through the setup step by step. The final step is to click on the pink button entitled 'create your first product!'.
You can, of course, change and adjust the basic settings you have selected at any time during the setup. This applies to the following areas:
Location (head office)
Currency used
Unit for product weights
Unit for product dimensions
Product shipping with shipping charges (domestic/international)
VAT increase for products, amount needs to be indicated
Authorization of payments via bank transfer, cash on delivery, check, PayPal
Activate options for offline payments (check, cash on delivery, bank transfer)
Step 2: Set up an online store (general options)
WooCommerce offers those, which use WordPress to create their online store, the possibility to edit a variety of basic functions independently. The most important basic settings can be found in the sidebar under 'settings' and then 'general'. You can enter basic information such as the title of the website, the web address (URL), time zone, and language. Under the menu item 'WooCommerce', you will find the menu item, 'settings' where you can select and organize the most important elements of your WordPress store infrastructure.
General
This tab enables you to make changes to the headquarters location, the sales region, currency, and shipping locations.
Products
Here you can configure product-specific settings: units of measurement, ratings, display options (shop and product pages as well as images), warehouse management, and downloadable products.
Tax
This menu allows you to specify various options for tax rates (e.g. filtered by country, city, and shipping terms).
Shipping
In this menu, you can determine the terms of shipping for an unlimited number of countries and regions - including shipping zones, charges, shipping destination, and grouped shipping classes.
Checkout
Options for the payment process can be set up via the 'checkout' tab. Here you can regulate the process for customers from when they order to when they pay: from settling individual vouchers or coupons to being redirected to the shopping cart, and from checkout and general terms and conditions to the URL endings for the transaction pages and how the payment methods should be displayed (transfer, check, cash on delivery, PayPal, and PayPal Express Checkout).
Accounts
The registration of customer accounts can be easily managed in the settings menu: under the tab 'accounts', you can specify how and when users are redirected to a page where they can log in or sign up for a customer account. You're free to choose the end part of the URL for individual commands and subpages (display orders, reset password, unsubscribe, etc.).
E-mails
Under 'emails' you can configure individual e-mail notifications for customer transactions: the type of notification (e.g. new, canceled, failed, as well as adding comments or creating new accounts) and the recipients can be chosen as you wish. In addition, you can also change the layout of the e-mails (name of sender, header and footers, as well as individual colors for text and background).
Step 3: Design the navigation and layout of your online store
To make it as easy as possible for users to navigate your store and find what they're looking for, it's possible to customize the navigation on your WordPress online store's user interface. The WooCommerce installation wizard automatically generates a central navigation interface with four menu options:
Shop (product overview and details)
Shopping cart (digital collection of all customer orders)
Checkout (payment page for processing purchases)
My account (customer account with order overview and contact information)
In the sidebar, you will also find the 'pages' tab where you can create additional pages for your store. If you click on 'edit' when you're on a certain page, it's possible to position this page anywhere in the site hierarchy and publish it. Parent pages can be selected by clicking on 'parents' in the 'page attribute' window.
In the dashboard, you can then expand, modify, and manage the navigation menu of your store page under 'design'. In order to do this, you must enter the desired name of the new menu under 'menu' (the first one is already named as 'main menu'). To the left of the 'menu structure' window, you can add the desired pages to the menu by checking each one and saving your settings (button called 'save menu'). Main pages can be made into subpages using the drag and drop feature.
Depending on the chosen WordPress interface (theme), you can also customize the design (e.g. colors and layout) of your online store as well as the menu structure. There is a wide range of industry-related, mostly free templates. The type of web design that is the most suited to your store depends on your sector, your range of products, and, of course, your target group's tastes.
Step 4: Products, texts, and images for your WordPress online store
If you want to create your online store with WooCommerce and for it to be a success, it's not enough to simply create the design and menu structure for the store website: your content needs to be displayed and products sold in your WordPress online store. Using the WordPress dashboard, you can also set up images, text information, and other content.
To add a product to your range, select 'add product' from the dashboard, which is located under the 'product' tab. For product data, for example, you can choose between a 'simple product' or a 'variable product' (e.g. single items of different colors or sizes). If it is a product that can't be physically sent, make sure to classify the item as a download product by checking the 'virtual' or 'downloadable' box. You can now add the product name, product descriptions, photos, galleries, and tags that will enable your customers to find your products quickly.
In order to classify products in your category pages, select 'categories' under the menu item 'products' and enter the name and URL variant of your category e.g. 'crockery'. You then need to provide a description and thumbnail, then finally click on 'add product category'.
Now, in the editing menu for the desired product, check the box under 'product categories'. By clicking on 'publish' or 'update', you can add the product to the category ('crockery') within the store. To see what the product page looks like for customers, click on the 'preview changes' in the top right-hand corner.
Tip
You should always give as much information as possible (i.e. clear URLs/permalinks, clear titles, clear product info and short descriptions) so that these are quickly recognized and found by both potential customers and search engines. A clear structure, optimal navigation, appealing design, and obvious names are important in connection with the keywords and metadata that match your offer. It's especially important for search engine optimization since these details influence the position of your WordPress store on search engines such as Google and Bing.
Step 5: Additional features for your online store with WooCommerce
Since the plugin features of WooCommerce in WordPress are very extensive, it's only possible to introduce a few in this article: the most important ones can be selected in the sidebar under the 'WooCommerce' menu item:
Orders
As soon as you have gained paying customers, you can manage and edit all customer orders in the 'orders' section. It's possible to view the exact status as well as all relevant information on orders (contact details, order date, status, invoice and shipping information, product overview, prices, and totals).
Coupons
An additional incentive is to offer coupons that customers can buy or gift to others. You can add this option via the 'coupon' menu. Specify the type of discount (cart discount, cart % discount, product discount, or product % discount), select the coupon amount, decide on shipping options, and state the expiry date. In addition, you can also define usage restrictions, order value limits, as well as including or excluding certain products that the coupon cannot be used to purchase.
Reports
Under 'reports', you can check the progress of orders and revenue for your online store. A chart enables you to see values such as gross and net turnover, received orders, sold products, refunds, shipping costs, and coupon values. A flexible timetable lets you check the values of last year, last month, last week, or you can even define your own time period. You can also filter the chart by product type, category, or coupon date. This means you always have an overview of the main figures.
Creating an online store with WordPress and WooCommerce: Starting simply in e-commerce
Creating your online store makes it easier to manage your offer online. It could mean that you have to make compromises on performance, range, and number of features when using free CMSs like WordPress (as opposed to integrated shop systems such as Shopware or Magento). For beginners with a manageable range of products, it is definitely worthwhile, however, to design an online store with WordPress.
The plugin WooCommerce is a useful extension thanks to its ease of use and wide range of settings. If you have finished setting up and equipping your store, you should carry out a test run as if you're the customer so that you can perform a security check and make sure all store elements (search, order, shopping cart, etc.) are working as planned. You can then launch your store and continue making design changes as you go along.